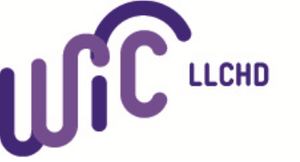 Celebrating National Breastfeeding Month
 August is national breastfeeding month with August 1-7 being National Breastfeeding Week.  Breastfeeding is the optimal source of nutrition for infants and is protective against various diseases/conditions for both baby and mother.  WIC strives to provide participants with the education, equipment, and support needed to be successful during their breastfeeding journey.  WIC provides a staff of lactation supporters (LBCLC, CLCs and Breastfeeding Peer Counselors), breastfeeding group education opportunities twice weekly, and breast pumps.  Breast Pumps are offered in their clinic through Medicaid, private insurance or through the WIC program. 
Breastfeeding Peer Counselors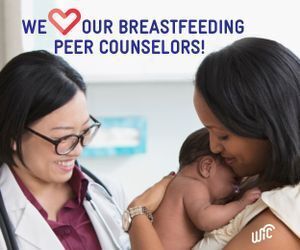 The Breastfeeding Peer Counselor Program started in 2020.  The goal of the Breastfeeding Peer Counselor Program is to offer mother-to-mother support, manage common breastfeeding concerns and provide encouragement through the breastfeeding experience.  Breastfeeding Peer Counselors are women who are part of the WIC community, have breastfed for at least 6 months, completed the breastfeeding peer counselor training program and are available to WIC clients outside of the usual clinic hours.  Currently the Breastfeeding Peer Counselor Program is serving approximately 100 participants. 
The Lincoln-Lancaster County Health Department's Women, Infants and Children (WIC) program is a supplemental nutrition program for pregnant, postpartum, and breastfeeding women, infants, and children up to age 5.  All caregivers who care for a child under 5 years are welcome including moms, dads, grandparents, foster parents, and guardians.  LLCHD WIC is strengthening families by providing 4 core services: healthy foods, nutrition education, breastfeeding support and referrals to health and social services. 
WIC is the nation's most successful and cost-effective public health nutrition program.  It is a short-term program designed to influence lifetime nutrition and health behaviors of low to moderate income mothers, infants, and children.  Studies have shown that women who receive WIC start prenatal care earlier, have fewer premature births, are more likely to breastfeed and have improved diets which leads to healthier weight gain during pregnancy.  WIC also helps moms breastfeed longer.  Children who receive WIC have improved diets, decreased incidences of iron deficiency anemia, more regular medical care, up to date immunizations, and improved intellectual development that gets them ready for school. 
Good news!  The income guidelines have significantly increased this year which means more families may now qualify for WIC.  For example, a family of four can earn up to $55,500 a year and still be eligible for WIC benefits – an increase of $4,162 from 2022 when a family of four could earn up to $51,338.  Check out the income guidelines here.
LLCHD WIC locations and hours:  
Lincoln Lancaster County Health Dept, 3131 "O" St., (402) 441-6200: M, T, W, F  8AM - 4:30PM;  TH 8AM - 6:30PM 
Cornhusker Office (near Super-Saver), 27th & Cornhusker Hwy, (402) 441-4204: T, TH, F 8AM - 4:30PM;  W 8AM - 6:30PM