On the Move  
But Great Resources as Always
Parks and Recreation offices are moving to the office building next to Woods Park in late March.  The Parks and Recreation Administration, Athletics, and Planning & Construction section and Reservations sections will then be located on the 3rd floor of the building shared with the Lincoln/Lancaster County Health Department.
Offices may be moving but  Lincoln residents of all ages can still enjoy Lincoln Parks and Recreation's 126 parks, 132 miles of trails, seven recreation centers, 9 public pools, 5 city golf courses, Pioneers Park Nature Center, Woods Tennis Center and Team Sports Programs!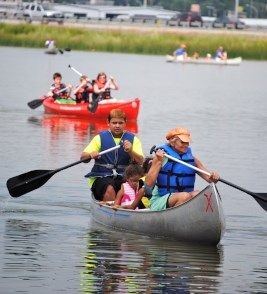 Play in the Parks-Explore, experience and enjoy Free activities in the Parks
Wild Adventure Day at Pioneer Park Nature Center kicks off Play in the Parks summer series on Saturday April 29th from 9am-2pm.  This event provides a family friendly environment to learn about nature up-close.  
Enjoy the sunset while canoeing on Holmes Lake or explore the joy of underwater hockey, logrolling, water polo, and aqua-quidditch at Wacky Water Sports.
Feet First is a running program designed for the non-runner grade 3 through adult. Participants will take the first step together and develop a sense of community.
The Move More Lincoln Wellness Series will again be offering fitness classes such as Boot Camp, Zumba, Dynamic Movement and Yoga at Jane Snyder Trail Center from Memorial Day through Labor Day.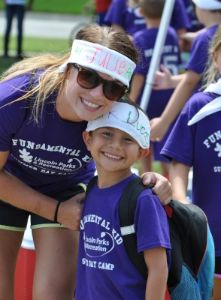 FUNdamental Summer Day Camps
Summer recreation programming for youth grades K-5 focus on fun, friendship, fitness and healthy lifestyles choices. Activities include the development of social skills, along with character education and an emphasis on nutrition. Pioneers Park Nature Center has an array of nature focused camps all summer long.
Crunch and Lunch is a fun and free program for youth who have completed K-5 grades. AmeriCorps members will provide quality recreational experiences and academic enrichment that promotes creativity, teamwork, and healthy lifestyles. 
It's a Party and EVERYONE is invited!
The first Party on the Plaza is Saturday, May 20 from 4-7pm which is also National Kids to Park Day.  The event will kick off with a 1-mile Fun Run and have mini fitness classes offered throughout the evening. Other activities will include GolfZilla, Gaga Pit, Solar Ball chase, balloon twisting and face painting.
There is no better time than now to get out, be active and have fun! For more information or to register for these or other programs visit the Lincoln Parks and Recreation website at parks.lincoln.ne.gov