February 2016 - Lincoln and Lancaster County Health Dept., 5-4-3-2-1 GO!® Program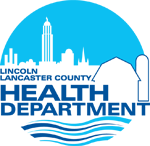 For the past five years, Lincoln-Lancaster County Health Department has promoted the city-wide childhood obesity prevention message, 5-4-3-2-1 GO!® Within this evidence-based message, each number represents a health action that has been shown to decrease the risk for obesity and other health issues such as heart disease and diabetes. The program recommends 5 servings of fruits and vegetables, 4 servings of water, 3 servings of low-fat dairy, 2 hours or less of screen time, and 1 or more hours of physical activity. These are the minimum amounts (maximum for screen time) recommended for children to achieve every day. This positive message helps children learn what they can have instead of teaching them what they cannot have, helping them fuel their day the 5-4-3-2-1 GO!® way!
The project coordinator works with over 50 community partners who help promote the countdown message to children and their families. Many partners also work towards building an environment that supports 5-4-3-2-1 GO!® by removing all screen time (except for homework) at after-school programs, removing less healthy options from vending machines, incorporating more fruits and vegetables into their snacks and meals, serving water at their events, and incorporating more physical activity into their lessons and activities. Every partner has access to free 5-4-3-2-1 GO!® posters, bookmarks, parent handouts and many other resources upon request.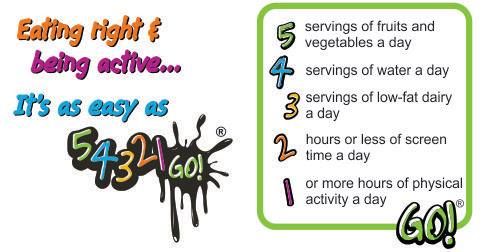 Be on the lookout for the 5-4-3-2-1 GO!®  community resource map coming soon that will help your family locate all the grocery stores and farmers' markets available to build a MyPlate-based meal and screen-free/physical activity opportunities. You'll likely find activities you have never heard about or considered in Lincoln! Best of all, all the activity locations have things to do that are $10 and under!
Stay up to date by following 'Let's Move Lincoln' on Facebook, Twitter, and Pinterest, where healthy tips, ideas, and community activities will be posted weekly to help your family improve 5-4-3-2-1 GO!® behaviors. Any business or organization interested in receiving free materials and other related resources can visit http://lincoln.ne.gov/city/health/educat/go.htm or contact Angelina Stovall-Amos at astovall-amos@lincoln.ne.gov.
This message was created by the Consortium to Lower Obesity in Chicago Children (CLOCC). 5-4-3-2-1 GO! ® is a registered trademark and Copyright © 2004 Ann & Robert H. Lurie Children's Hospital of Chicago. All rights reserved. www.clocc.net