Salvation Army Keeps Youth Engaged with
"Shields Unite"
The Salvation Army of Lincoln is committed to helping children stay safe and healthy with an emphasis on good nutrition, physical activity, and building character.  Engaging kids in active play is one effective way to positively engage kids, get them moving and have fun at the same time.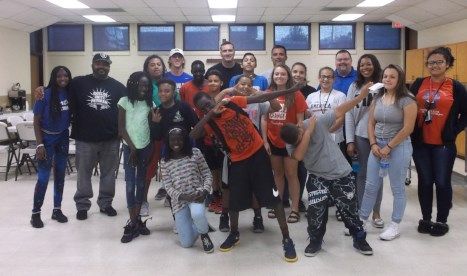 The Salvation Army Shields Unite program for middle and high school kids was designed to build positive relationships between the youth in our community and Law Enforcement. When the program was started two years ago, we focused on sports - using sports as a conduit to get kids involved. Our first year, over 100 kids  participated in the program, but we knew we could do more and reach more kids.
Now in its second year, the Shields Unite leadership has also developed and implemented a Young Leaders Club into the program. Young Leaders meets twice a month for an hour and a half each meeting where we focus on building leadership skills, maintaining good hygiene, dealing with peer pressure, and basic life skills. Twenty-four youth are enrolled in the club, working with three Lincoln Police Department officers, a volunteer from the Malone Center, and three Salvation Army staff members. While the club emphasizes character building skills and sports, we also incorporate other activities, like our recent visit to Champions Fun Center and our upcoming plan to visit Defy Gravity. For more information about the Shields Unite program and the Young Leaders Club, email Stanford Bradley, call him at 402-474-6263 ext 508, or stop by the Salvation Army on 27th and Potter Street.