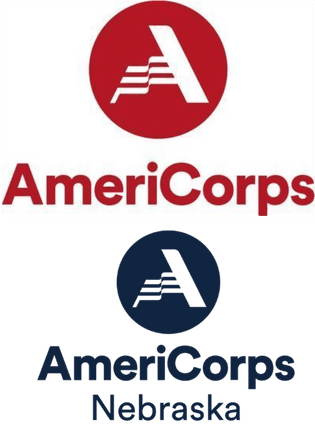 Partnership for Healthy Lincoln (PHL) and the Community Learning Centers (CLCs) are dedicated to providing wellness opportunities and resources to youth and families in Lincoln. We believe partnership is the way to accomplish change and work with many organizations and institutions to deliver high-quality wellness efforts. PHL and the CLCs are partnering with AmeriCorps, to increase our reach and impact, working together to create and sustain programs for youth to learn about healthy food choices, agriculture based education and physical activity.
What is AmeriCorps?
Across the country, people are asking what they can do to make a difference. And AmeriCorps is answering the call, responding to the growing demand to address challenges in education, public health, food insecurity, and economic uncertainty.
AmeriCorps, a federal agency, brings people together to tackle our country's most pressing challenges, through national service and volunteering. AmeriCorps members and AmeriCorps Seniors volunteers serve with organizations, like Nebraska Extension, that are dedicated to the improvement of communities. AmeriCorps helps make service to others a cornerstone of our national culture.
Join Us
We have positions available as a school wellness leader.  To apply, download and fill out the documents below.  Email to: Anna Kokhanets or contact her with questions. Learn more about being a school wellness leader.