Statewide Conferences Highlight
                       Workplace Safety, Health, and Wellness
WorkWell, a division of the Nebraska Safety Council, provides wellness resources to organizations to help employees achieve optimal well-being.  With a membership of over 100 organizations, WorkWell helps companies of all sizes, industries, and cultures experience success on any budget by following the evidence-based model of worksite wellness
Nowhere is that more evident than in the recent statewide conferences held in Lincoln and Gering Nebraska.  In September, the Nebraska Safety Council/WorkWell hosted a two day Conference and Trade Show in Lincoln which offered renowned industry key note addresses, dozens of seminars and breakout sessions, as well as a tradeshow.  Attended by hundreds of participants, the conference also recognized businesses and organizations from across the state for their safety and wellness efforts with 2016 Workplace Safety Awards and the prestigious Governor's Awards.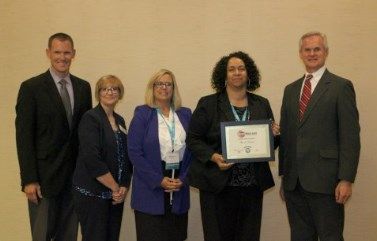 In October, Nebraska Safety Council/WorkWell hosted the Panhandle Safety and Wellness Conference and Trade Show in Gering, featuring keynote speaker western Nebraska native, Curt Tomasevicz, two time Olympic medalist.  The event included educational seminars and a trade show with top health and safety exhibitors.
Along with the 2016 Workplace Safety Awards, the Governor's Awards were presented to this year's winners at four separate award ceremonies during the months of September and October.  The award ceremonies were held in Lincoln on September 19, Kearney on September 29, Gering on October 6, and Omaha on October 11.
The fall months also offer two WorkWell seminars for both members and non-members, Operating with Peak Energy on October 18, and Healthy Holidays on November 15.  For more information and to register, visit the WorkWell website or call 402-483-2511.