CLCs, LPS, and Local Church 
Host Community Baby Shower 
On July 18, 2021, College View Church Pastor Kessia Reyne Bennett, Lincoln Public Schools Community Builder Jenee Kucera, and Calvert Elementary CLC School-Community Coordinator Carly Horstman, hosted a Community Baby Shower in Henry Park near Calvert Elementary.  This idea originated at a 2018 School Neighborhood Advisory Committee (SNAC) looking for ways to address health inequities revealed by the Community Health Endowment's Place Matters data.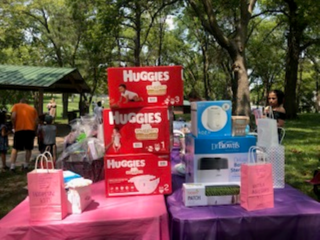 The event was a walk-through style, public health event focusing on families in pregnancy or with infants. As families entered the park, a welcome booth gave families tickets to enter into giveaways as well as pick up informational cards showcasing the booths and vendors. Thanks to the incredible generosity of businesses and people in the community, the event was able to offer families nearly $4,000 worth of baby and maternal essentials including breastfeeding supply kits, mother's hospital kits, nursing covers, books, diapers, strollers, and more. The donor support allowed every person attending the event to receive a useful gift.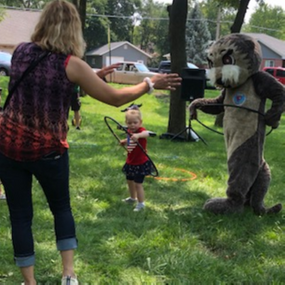 Around the park, organizations like WIC, UNL Extension, Lincoln Littles, Parks & Rec Preschool,Help Me Grow, 123 Connect with Me, Read Aloud Lincoln,  Healthy Blue NE, Bryan Health, Wholehearted Healthcare, Community Baby Closet, and Moms Cafe, offered information on nutrition, childcare, child development and other helpful resources. Children and families were even able to hula-hoop with Josh the Otter, who teaches kids and families about water safety.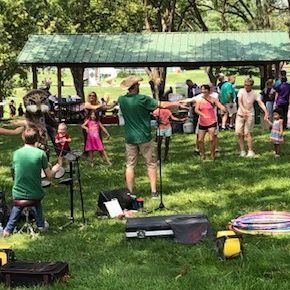 Thanks to a donation from Lincoln Littles and Children's Hospital, the shower included live music by community and kid favorite, The String Beans, adding another element to the shower that encouraged families to meet and mingle with neighbors, too. Families were free to roam about, dance a little, grab a refreshment, pick up some great information, answer some community questions and, courtesy of College View Church, Pathfinders and Twin Lakes Produce, enjoy a veggie slider and corn on the cobb.
As a follow-up to the shower, a one-time introductory class on breastfeeding will be offered to provide information to families who are not yet committed to the idea of breastfeeding but have some interest in it. The goal of the class is to normalize and promote breastfeeding as the first choice for feeding babies. Food and free childcare will be provided to encourage and accommodate parents.
Over fifty families attended the shower, a true success coming out of the pandemic. To protect attendee health, hand sanitizer and wipes were provided throughout the park for people to use as needed. The ability to put the School Neighborhood Advisory Committee's conversations into an actionable event is a great example of why Community Learning Center's Full Service Community School Strategy is a vital part of our community. It was truly an event that came from the voices of those who live and work in the College View Neighborhood.  For more information about the work of CLCs and the LPS Community Builder Program, contact Jenee Kucera.