Lincoln's Community Learning Centers (CLCs) are a strategy that brings schools, families and neighborhoods together to provide what youth and their families need to be successful.   Each CLC strives to promote collaboration between each school and its community.  Through strong school community partnerships CLCs are responsive to the needs of students, families and their neighborhoods.  Community partners are lead agencies that assist with promoting and implementing a successful CLC at their schools.   The CLCs also work with other organizations like Partnership for a Healthy Lincoln, who coordinate nutrition programs like WeCook and Harvest of the Month and fitness programs like SPARK within some of the CLCs.  This 2022 highlight, showcases how the CLCs have recently collaborated to acheive the three pillars of the CLC mission - students, families and neighborhoods.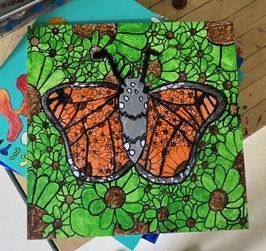 Students  
     Mickle's CLC club, the Mickle Garden Green Team, just finished up their winter prep to prepare the Mickle Garden for the next growing season. The club spent the first quarter of the school year watering and harvesting the produce that was grown the previous spring and summer. They finished up harvesting in the beginning of second quarter then worked on raking the grounds before the ground froze in the winter. Students were also able to learn about repotting plants, types of plants that are good for gardens, and helping to collect non paper recycling around the school. The students are now planning what they will plant in the garden for the next school year.
Families  
The COVID-19 pandemic has highlighted the importance of providing safe spaces for authentic connection and support for families and community members. One opportunity that has continued despite challenges with Lincoln CLCs has been Community Cafés. 
     The Community Café approach is a unique, community-based and caregiver-led approach founded on the principle that every child has the inalienable right to thrive. This approach fosters collaboration, emphasizing caregiver and neighbor voice through intentional conversations centered around the five protective factors – resilience, competence, knowledge, connections, and support – in a judgment-free environment. Common conversation topics at Community Cafés include parenting knowledge, strengthening social connections, and building family and community resilience.
     Community Cafés traditionally involve a shared family meal, translation for attendees, and opportunities for structured activities for children attending with their caregivers. However, in the past two years, Cafés have adapted to ever-changing safety and community needs, getting creative by moving to virtual spaces or meeting outside to continue engaging students, families, and neighborhoods. Since the start of the pandemic, Community Cafés in Lincoln have discussed a wide variety of meaningful and important community topics including creating brave spaces, belongingness and mattering, and rebuilding, teaching, and maintaining trust.
     Children and families thrive when they are not only part of strong and supportive family units, but when they are embedded within healthy communities that encourage and promote positive practices.  Community Cafés are one such approach to amplifying these community assets and spaces across our city.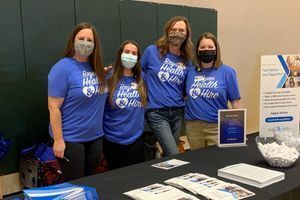 Neighborhoods   
     Community Learning Centers also partnered with Bryan Health, Lincoln Parks and Recreation, South of Downtown Community Development Organization and Lancaster County Department of Health and Human Services to carry out a "Health and Hire" event last October. Students received free school physicals and bike helmets, while all attendees had the opportunity to learn about and apply for career opportunities at Bryan. Healthy food demonstrations and samples were provided by Bryan Sous Chef, Brady Bogenrief, along with a bag of butternut squash and apples to take home. To top it off, influenza and COVID-19 vaccinations were available. The event served 92 individuals, provided 8 physicals, accepted 16 applications, resulted in two people being hired, with 6 continuing the interview process. 
To learn more about the Lincoln Community Learning Centers, visit their web site, or contact Samantha Thomas.