Community and Health Built through Bike Share
It is amazing what the simple act of riding a bike can do. Bikes have an inherent power to connect people and transform the places we habitate. With over 130 miles of trails in the capital city, those of us who call Lincoln 'home' are fortunate to live in a place where bikes can easily move us to jobs, education, and essential services—but they can do far more than that. At their core, bikes can connect us to our best selves and shape the way we live and work. For all those that want –and in many cases, need – access to publicly-available bike transportation in Lincoln: enter BikeLNK.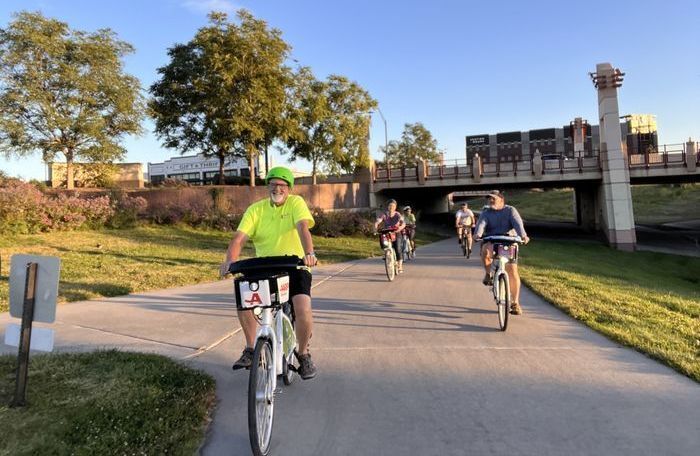 BikeLNK is Lincoln's locally operated bike share program. BikeLNK was brought to Lincoln in 2017 and hit the streets a year later as part of a CMAQ grant, and it exists as the joint partnership between the City of Lincoln (which owns the equipment) and the 501c3 nonprofit Heartland Bike Share (which serves as the program's operator). Bike share allows users to access community-available bikes through short-term rentals and membership programs. In doing so, bike share reduces many of the barriers of traditional bike ownership: purchase costs, routine bike maintenance, storage concerns, and the ability to safely and securely park your bike are all easily handled for users of bike share. 
In 2022 BikeLNK supported over 35,000 rides in the capital city. Those trips traveled an estimated 87,000 miles. Put another way, BikeLNK's trips from 2022 could circle the globe 3.5 times! With 21 kiosk stations and 120+ bikes in the system, use of BikeLNK benefits both individuals (who collectively burned over 3.4 MILLION calories this year while riding BikeLNK) and the Lincoln community as an estimated 82,000 pounds of carbon offset resulted from these trips versus had they been made by personal motor vehicle.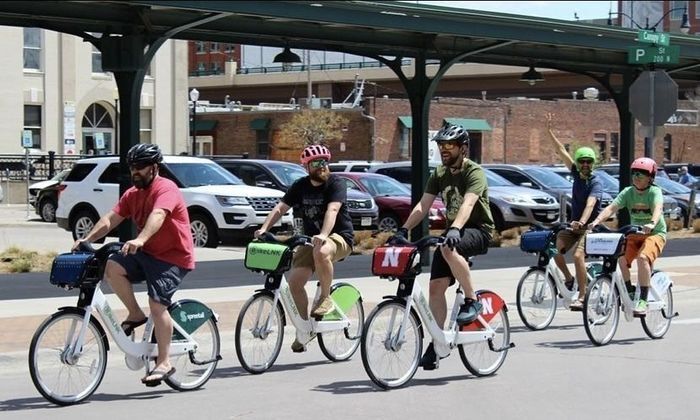 But bike share's reach and impact in Lincoln extends well beyond the trips it supports. BikeLNK works collaboratively and in partnership with local nonprofit and advocacy groups to promote the use of active, healthy transportation and recreation. Access to free BikeLNK passes is facilitated through community centers such as El Centro de las Américas, Asian Community & Cultural Center, and the Malone Community Center, in addition to the Check Out a BikeLNK program through Lincoln City Libraries' Bennett Martin branch. These passes allow community members access to bike share without the direct purchase of an individual pass.
BikeLNK also supported bike mobility and bike share education events throughout Lincoln in 2022 through a Community Challenge grant from AARP Livable Communities and AARP Nebraska. Bike share in Lincoln – with its publicly-available pedal-assist ebikes – is uniquely positioned to help individuals of varying physical abilities and ages to remain active and mobile by bike.
April 2023 will mark BikeLNK's fifth anniversary in Lincoln, by which time the program will have supported over 170,000 bike trips on community-focused bike share. With each passing year – and each passing bike trip - BikeLNK and bike share are woven deeper into the fabric of our city's community health and transportation opportunities. Movement, connection, and community are fundamental to the places we call 'home.' BikeLNK is grateful to have served Lincoln residents and visitors for these many years, and we look forward to many more. Ride on, Lincoln!
For more details on BikeLNK, our incredible partners, and to learn more about the checkout and return process, go to bikelnk.com.