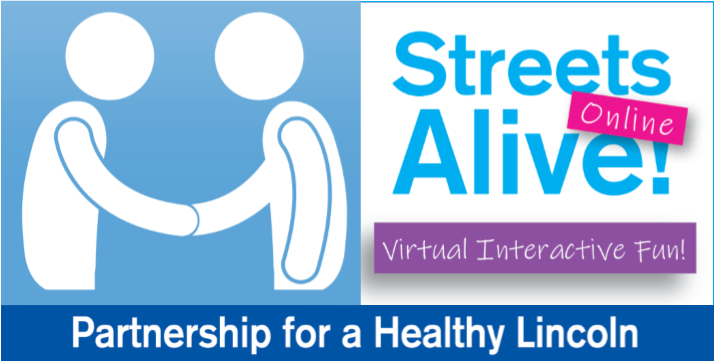 Sponsoring Streets Alive! Online
Traditionally, Lincoln's Streets Alive! is an outdoor wellness festival, held annually. When community health or weather circumstances prevent an outdoor event, we move the festival online, as we did in 2020.  View the 2020 event. The 2021 event is currently scheduled to be an outdoor event on September 26th in the South Salt Creek/Cooper Park neighborhood. 
But whether we take Streets Alive! into the streets or onto a screen, Streets Alive! engages our community in an interactive celebration of health and wellness, offering join-in fitness, healthy cooking, and gardening classes, learn-along sports demonstrations, sponsor and organizational spotlights, as well as support, education and community health and safety resources.  Our 2020 event had hundreds of page visits, and thousands of video views.  Because we record the event as it happens and also use pre-recorded video, the event is available for the community to enjoy year-round, providing lasting sponsorship recognition.
Called one of the city's premier events, your sponsorship allows you an opportunity to be a visible part of a free online event open to the entire community of Lincoln with lots of recognition in the news and online.  View or download the sponsorship level recognition informational flier.
Sponsorship Levels:
Platinum:      $5,000
Gold:               $2,000     
Silver:             $   500
Bronze:          $   250        
Supporter:    $   100
Community Project Sponsorship Opportunity
Thanks to our Streets Alive! sponsors, one day every September, Streets Alive! makes our whole community healthier by making free health, wellness, and fitness resources accessible to everyone.  Partners who sponsor our Streets Alive! Community Development Project, help sustain the wellness efforts that begin with the festival by supporting a project or program that improves the health and vitality of the neighborhoods that co-sponsor Streets Alive!   Learn about our current Streets Alive! Community Development Project.  Contact us to inquire about sponsoring the 2019/2021 Streets Alive! Community Project in South Salt Creek.