LLCHD WIC Promotes National Dairy Month
June is National Dairy Month!  Did you know that diary, in particular milk, has 13 essential nutrients like protein, zinc, calcium, potassium, vitamin A and D that helps build and repair muscles and build and maintain strong bones and teeth?  Help your kids build healthy bones by offering low-fat or fat-free milk and yogurt, low-fat cheeses or unsweetened fortified soy beverages and soy yogurt with added calcium, vitamin A and D.  Most kids under 2 years should drink whole milk since the extra fat is good for growth and brain development and can help with absorption of vitamins A and D.  For those with lactose intolerance, try lactose free versions of milk, cheese, and yogurt.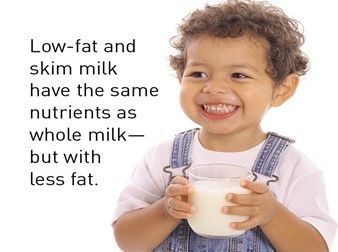 Offering milk at meals and water between for hydration is best in helping kids develop healthy eating habits.  Did you know that milk provides two important nutrients, iodine and choline that are important during pregnancy?  Iodine is important for neurodevelopment of the fetus and choline helps support growth and development of baby's brain and spinal cord.  
How many servings of dairy do you need a day?  Children 1-5 years need 1 ⅔-2 ½ cups daily from the dairy group.  Pregnant or breastfeeding women should aim to get 3 cups from the dairy group.  What counts as a serving?  In general, 1 cup of milk, yogurt, or soy milk, or 1 ½ ounces of natural cheese can be considered as 1 cup from the dairy group.  The WIC program helps support diary needs by offering food packages that include milk, cheese, and yogurt or alternatives like lactose free milk or soy beverage.  
 
The Lincoln-Lancaster County Health Department's Women, Infants and Children (WIC) program is a supplemental nutrition program for pregnant, postpartum, and breastfeeding women, infants, and children up to age 5.  All caregivers who care for a child under 5 years are welcome including moms, dads, grandparents, foster parents, and guardians.  WIC is the nation's most successful and cost-effective public health nutrition program.  It is a short-term program designed to influence lifetime nutrition and health behaviors of low to moderate income mothers, infants, and children.  Studies have shown that women who receive WIC start prenatal care earlier, have fewer premature births, are more likely to breastfeed and have improved diets which leads to healthier weight gain during pregnancy.  WIC also helps moms breastfeed longer.  
Children who receive WIC have improved diets, decreased incidences of iron deficiency anemia, more regular medical care, up to date immunizations, and improved intellectual development that gets them ready for school.  LLCHD WIC is strengthening families by providing 4 core services: healthy foods, nutrition education, breastfeeding support and referrals to health and social services.   
LLCHD WIC locations and hours:  
Lincoln Lancaster County Health Dept, 3131 "O" St., (402) 441-6200: M, T, W, F  8AM - 4:30PM;  TH 8A - M - 6:30PM 
Cornhusker Office (near Super-Saver), 27th & Cornhusker Hwy, (402) 441-4204: T, TH, F 8AM - 4:30PM;  W 8AM - 6:30PM